Pay Attention To Who You Accept Criticism From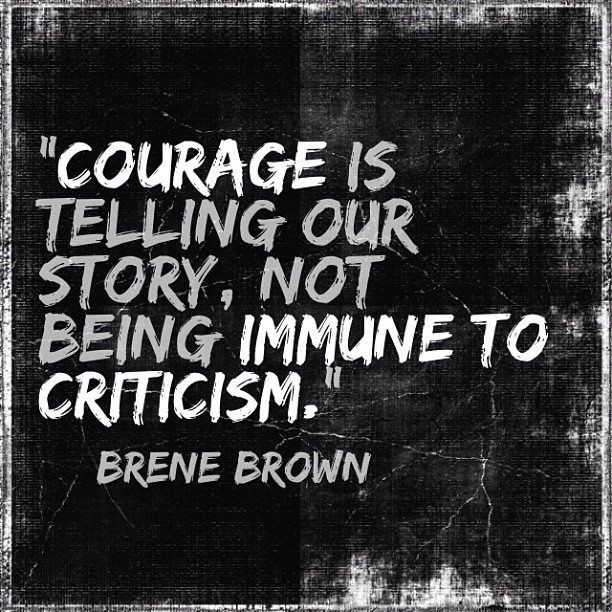 Everyone has the right to their own views and opinions about you and what you do. And you have every right to be selective about who you choose to listen to. My feelings do get hurt when someone does criticize me or my work. I had to do a great deal of soul searching just to be comfortable with knowing that when you choose to do things such as blogging, writing articles, or putting any part of yourself out there, YOU OPEN YOURSELF UP TO CRITICISM! It really is that simple. So you would think knowing this makes the pain of hearing what people have to say, less severe.
Reality is it doesn't. But surely I cannot be the only writer or creative mind who feels this way right? There has to be someone out there who is just as scared and vulnerable as me right? If that person is out there, what do they struggle most with and how have they been able to tame those demons or voices that bring you down all because someone had something nasty to say? Dr. Brene Brown has the perfect strategy which now serves as the foundation of my work. It took just 22 minutes to save me from 525,600 minutes of stressing for the rest of the year about everything I was passionate about but couldn't handle the criticism that came with it.
Dr. Brené Brown is a research professor at the University of Houston Graduate College of Social Work. She has spent the past twelve years studying vulnerability, courage, worthiness, and shame. Yes you read that correctly, she spent twelve years studying in areas you probably thought were not areas that could be studied. Despite being an expert in vulnerability and courage, she once struggled with the insecurities that come from putting yourself and you work out there. She received criticism for her work and at times was even ridiculed for what she studied and what her profession was. But everyone needs something that will give them hope and keep them going right? For Dr. Brown, it was a quote from Teddy Roosevelt, which I am sure we have all come across before. It reads:
"It is not the critic who counts; not the man who points out how the strong man stumbles, or where the doer of deeds could have done them better. The credit belongs to the man who is actually in the arena, whose face is marred by dust and sweat and blood; who strives valiantly; who errs, who comes short again and again,because there is no effort without error and shortcoming; but who does actually strive to do the deeds; who knows great enthusiasms, the great devotions; who spends himself in a worthy cause;who at the best knows in the end the triumph of high achievement, and who at the worst, if he fails, at least fails while daring greatly."
As cliche as this quote probably is, it can mean so much to a person who can relate to the words. I had seen this quote before but when Dr. Brown made reference to it, I read it from a different perspective. I read it from the perspective of having this big dark cloud called fear mount over me, every time I dared to be bold and try something different. I read it from the perspective of a young girl with big dreams who also gets ridiculed by other people for trying to do things she has never done before or something she is still learning.
The quote finally made sense. It finally had a meaning and it came to life. It cleared the dark cloud called fear and gave me a stronger voice than that of my critics. Dr. Brown's interpretation of the quote also taught me a valuable lesson of who to pay attention to when it comes to criticism. To anyone who has ever struggled with criticism and putting your work out there (even when it is not perfect), please watch this video. It is only 22 minutes out of the total 525,600 minutes that pass each year.
[embed]https://www.youtube.com/watch?v=8-JXOnFOXQk[/embed]